Tatriz To The Future
*Tatriz means Embroidery in the Arabic language
Text by Gilad Meltzer
Selective vision characterizes most societies and individuals. We tend not to notice phenomena, forms, content, and especially people, that make us feel uncomfortable, anxious, or repulsed. The selectiveness of our vision and its accompanying discomfort are not metaphoric – they are very concrete. The eye sees, but the image, the person, or the phenomenon are not processed or received. Looking but not seeing, seen but invisible.
People and societies all have their own blind spot. In Israel, the largest one is the Arab population.
Despite our insistence not to see them – or to see them only partially, in certain designated roles – they are here. By here I do not mean the separate towns or the "mixed cities," such as Haifa, Acre, Jaffa, or Jerusalem. I mean the Arabs who live and work everywhere, here in Israel, who are an integral part of Israeli society.
They are present in Ramat Aviv, for example, a neighborhood centered around the University, where Iris Hassid also lives. Hasid, who has studied the worlds of young girls, teens, and adolescents for the last decade, now focuses her lens on these young women, from whom we usually turn our gaze. Young Arab women, removed from the environment where they have grown up, from the protection (often over-protection) of family, community, and tradition, now living in one of the strongholds of the Jewish elite in Israel. They work at the neighborhood mall and in restaurants, they study at the University and spend their free time in the parks, the hangouts, or indoors in the dorms and their rented apartments.
It has not been easy for Iris Hassid to win the women's trust, to get their permission to photograph them. Samar, who has just graduated, helped Hasid to gain that trust. She says: "at first when I came to Ramat Aviv, I felt as if I was in another country. I had a sense of freedom accompanied by alienation. Until then, the only times I met Israeli Jews (besides family friends) were while shopping in the Jewish part of Nazareth. To feel connected, not as strangers, we've created our own small community in Ramat Aviv."
Hassid, who started working on this series more than two years ago, talks about what the photographs cannot show or demonstrate. For example, she tells about the time of Operation Protective Edge in Gaza, or the days right after the 2015 elections, which may always be remembered because of Prime Minister Netanyahu's announcement that the "Arabs are voting in droves." During those days, Hasid lost contact with the Arab women. But in spite of the political reality, which repeatedly destroys the chance to communicate, Hasid and the women have found ways to re-establish the trust among them and to enable her to be present in their daily routine and to present their world to others.
The world of the young Arab women in Ramat Aviv is one of in-betweens. It follows school schedule, from arrival at the end of the weekend, with a small suitcase, until Thursday night, when they return to their families, most of whom live in homogeneous Arab towns or villages. This world exists between ancient traditions and the search for independence, for a personal voice, expression, style, and conduct. It is motivated by the urge to be who you are, and by doubts and worries that this identity – a young Arab woman in a Jewish city – invites daily confrontations with racism, suspicion, threats, and potential violence. As Hassid puts it, "on the one hand, there's change in the air, a renaissance, while on the other there's darkness."
As a photographer, Hassid insists on searching for the light. She makes portraits of the youngsters, who for their part learn to shed their initial shyness and to suppress the urge to ham for the camera. Just like the young Jewish women, who trusted Hassid and allowed her to document them during the weeks preceding their induction into the military, or during their various initiation rites, the Arab students – her neighbors – trusted her and let her photograph their social gatherings, in their rented apartments or in public spaces around their new neighborhood.  They let her photograph the walls in their private rooms, which they decorate with collages of their worlds.
The exhibition, "Tatriz to the Future," can be viewed as an extension of those walls. Another wall, another portrait, another encounter with those we have taught ourselves not to see, even though they are part of the fabric of our daily life in what used to be the village of Sheik Mounis.
Gilad Meltzer, winter 2016
Samar, Aya, Majdulin and Manar, Green Car, 2014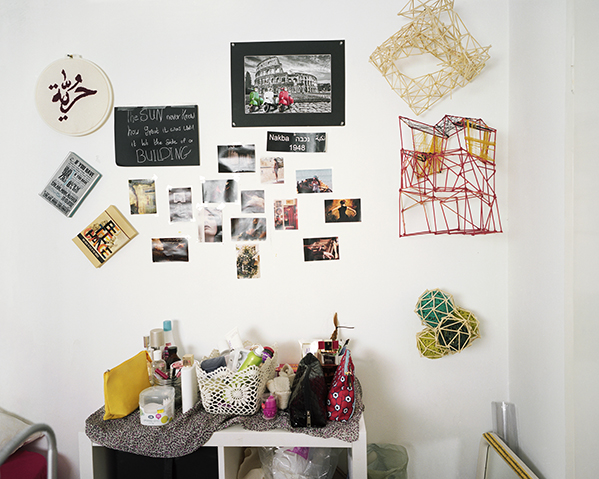 Majdoleen's Room, Yellow Makeup Bag, Ramat Aviv, 2015
Saja in the Kitchen, Ramat Aviv, 2015
Samar in Her Room, with Saja and Bigel, Tel Aviv, 2015
Tatriz To the Future, Majdoleen's Desk, Ramat Aviv, 2015
Paulin With Suitcase, Ramat Aviv, 2015
Samar, Majdulin and Saja, Red Towel, Blue Towel
Cafe, Ramat Aviv, 2015
Cafe, Samar and Louis, Ramat Aviv, 2015
Lina and Samar, Yello Car Plate, Ramat Aviv, 2015
Waheeb's Living Room, Christmas Tree, Ramat Aviv, 2015
Aya, Majdulin, Salem and Waheeb, Mishan Garden, Ramat Aviv, 2015
Saja and Majdulin, Aroma Cafe, Ramat Aviv, 2015
Majdoleen, Don't Look Back, Ramat Aviv, 2015
Shaida, Blue Suitcase, Ramat Aviv, 2016